YUGO FLORIDA 1.3 EFI :


is a car fully bult by, "ZASTAVA AUTOMOBILI" - car factory.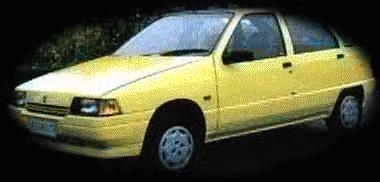 * It is a medium class car, very functional , universally and highly applicable. However, this car belongs to lower medium class segment by price in relation to competition .

* It satisfies the criteria of extremely selective buyers who want a car for ever occasion. Because of its characteristics, and especially because of extraordinary interior space, superior even regarding vehicles of top-class, YUGO FLORIDA 1.3 EFI is very convenient for familiar and business use.

* Ergonomteric requirements are fulfilled by good access to controls and by clearness of an instruments set.

* Beside that, with this car we have thought about nature, too. YUGO FLORIDA 1.3 EFI meets the most stringent ecological requirements. The highest results in protection of environment are provided by built-in of a catalyst and usage of unleaded fuel. Personal experiences of numerous customers of this are very favourable, AND SO YOU
TRUST YOUR CHOICE.


YUGO
FLORIDA 1.3 EFI
BODY
FIVE-DOOR HATCHBACK, 5 SEATS
ENGINE
FIVE-DOOR HATCHBACK, 5 SEATS
ENGINE CAPACITY (cc)
1299
POWER (KW, KS) o.min
50/68-5500
COPMPRESSION
9.1
FUEL
SUPER, UNLEADED
VALVES
4 PER CYLINDER
GEARBOX
5 SPEED
BRAKES
FRONT / DISC REAR / DRUM
TYRES
165 / 70 R x 13
DIMENSIONS
LENGTH
WIDTH
HEIGHT
3932
1658
1410
KERB WEIGHT
950
FUEL THANK CAPACITY
48
BOOT CAPACITY
410
PERFORMANCE MAX. SPEED km/h
155
ACCELERATION (0-100 km)h
15